Wedding Photo Booths for Your Big Day
---
Your wedding day is all about celebrating you and your spouse, but don't forget about your guests!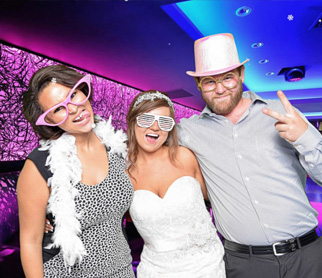 When it comes to your wedding, you want it to be the most beautiful and memorable that your guests have ever been to. You spend months (maybe even years) planning out your guest list, flowers, photographer, and caterer, which leaves you wondering what else you may be forgetting to make your wedding stand out from the rest.
Photo booths have become increasingly popular at Metro Detroit weddings, and for a good reason! They get your guests up and moving, and provide an alternate form of entertainment for those who are a bit shy from the dance floor. At FotoBomb, our wedding photo booths have been awarded by The Knot and WeddingWire for the great experiences they provide for wedding guests, and countless brides have raved about their experiences with us, too!
We already have a wedding photographer, why should we also book a photo booth?
While your wedding photographer is necessary to get photos of your venue, bridal party, and the first photos of you as a married couple, a photo booth adds unique entertainment for your guests! With a wide variety of props, backdrops, and more, a photo booth from FotoBomb Photo Booths allows your guests to be silly, let loose, and have a great time! At the end of the night, you'll receive a photo book complete with all of the photos your guests took as a great reminder of the best day of your lives. When you flip through and see pictures of your great uncle wearing crazy glasses with his tongue sticking out, you'll know it was well worth it!
Our photo booths fit seamlessly into your wedding's venue, whether it's indoors or outdoors!
---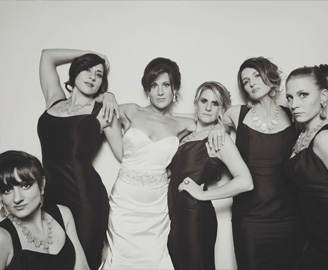 Choose from enclosed or open-air photo booths, both of which can easily be set up anywhere! Our enclosed photo booths can fit up to 10 of your guests in a private booth, while our open air photo booths are large enough to fit at least 12 guests. Both booths come with endless props and backdrops, as well as a social media integration feature. This technology allows your guests' photos to be sent to Facebook, Instagram, and even texted to their phones! Depending on the size of your event, our experienced staff can pair your wedding with the ideal photo booth.
---
Ready to make your next event one to remember? Reserve a photo booth from FotoBomb today!